Welcome. Let's get started...
...preparing you for the best backyard birdfeeding experience possible. At Wild Birds Unlimited®, our Certified Birdfeeding Specialists™ are trained to show you how to turn your yard into a birdfeeding habitat that not only brings song, color and life to your home, but also benefits the wild birds and the environment in your area.
WBU isn't just about selling birdfeeders and birdseed. We pride ourselves on being able to give you the most accurate information and knowledge about your local birds.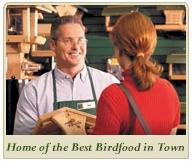 Based on more than 25 years of research and experience, our products have been designed to be the highest quality birdfeeders and birdfeeding equipment on the market today. We're so confident about our designs that many of our products carry a lifetime guarantee.
We're not only proud of our feeders though. We also have the freshest birdseed in town, and we can prove it. Our exclusive regional blends aren't just fresh; they're specially formulated from 100% edible seed that the birds in your backyard will love.
It is our goal for you to have the best possible experience from your birdfeeding hobby. Backyard birdfeeding is the most relaxing, fulfilling, educational and exciting hobby that anyone, young or old, can enjoy.
At Wild Birds Unlimited, we aren't just a birdseed store. We are Your Backyard Birdfeeding Specialist®, here to help bring you, your family and nature together.
Visit Us for Trusted Local Advice
We're proud to offer the best bird feeding products on the market...but that's not all. We back it up with trusted local advice about the birds and other wildlife found in our area.
We're here to make sure you get the greatest enjoyment out of watching the birds in your backyard.
Visit us soon!
The Most Exciting
Advancement in Bird Feeding
Available only at Wild Birds Unlimited, our EcoClean® feeders and accessories are the most advanced bird feeding products available on the market. EcoClean products feature a patented technology using a material preservative that inhibits microbial damage on treated surfaces. This protection won't wash or wear away.
Every EcoClean Feeder comes with:
24/7 Product Protection in treated components
Our Seed Tube Feeders and Finch Feeders feature Quick-Clean® removable bottoms
Lifetime Guarantee
How does it work?
EcoClean products incorporate a patented silver ion technology based on naturally occurring silver. When microorganisms come in contact with a treated surface, silver ions are released on demand to the surface of the product to inhibit microbial damage on treated surfaces.
This technology is already extensively used for applications in consumer products, including cell phones, shoes, keyboards, medical catheters and more.
Visit us soon, and bring the new age of bird feeding to your backyard.
EcoClean is a trademark of WBU, Inc., Carmel, IN.

Please join us on Facebook.